Gear review - BOYA BY-PB25
Review of the BOYA BY-PB25 Boompole
GEAR REVIEW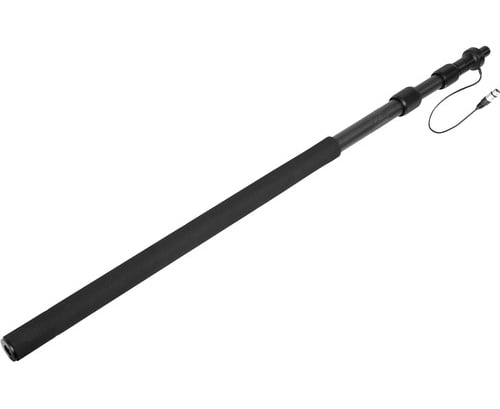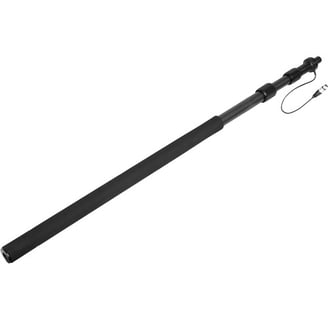 Introduction:
When it comes to boom poles, professionals have differing opinions. Some prefer the convenience of boom poles with internal XLR cables, while others opt for more traditional solutions like outside-wrapped cables or wireless transmitters. However, if you find yourself in a situation where the most popular and highly recommended boom poles are not easily accessible in your country, or if you are searching for a more budget-friendly option, your choices may be limited. This can be particularly challenging if you reside in a third-world country, where many shops may not offer shipping or charge exorbitant shipping fees.
For those of us residing in such countries, acquiring professional audio equipment can often prove to be a challenging endeavor. Larger items like Boompoles, in particular, tend to face hurdles such as limited shipping options or exorbitant fees and taxes imposed during customs clearance. Even popular brands may overlook shipping to our countries, leaving us with limited choices and frustrations when trying to source such equipment. However, after some research, I discovered that BOYA had an entire line of Boompoles, some of which aligned with my requirements, including the crucial feature for me of an internal coil cable. Having previously experienced satisfactory services and product quality from the official BOYA products, I felt confident in making another purchase. In this in-depth review, I will delve into my entire experience, starting from the purchasing process to my professional usage of the BOYA BY-PB25 in the field.
For budget-conscious individuals seeking professional-grade equipment, BOYA should be a well-known brand. Setting itself apart from other Chinese brands, BOYA maintains an English-language official website and an official store on AliExpress. The website looks fairly modern with a visually appealing design, it effectively provides comprehensive product information and boasts user-friendly navigation. However, it is worth noting that some peculiarities exist within BOYA's website. Surprisingly, information about their line of boompoles is notably absent. It is unclear whether this indicates the discontinuation of these models, but regardless, it would be beneficial for the website to provide clarification on this matter. Nevertheless, considering BOYA's reputation and the availability of other audio recording equipment, their offerings remain worthy of exploration for those seeking affordable options.
Purchasing, Shiping, and Packaging :
Often overlooked, yet a crucial aspect that deserves attention is the purchasing, shipping, and packaging. While it may not be the most riveting topic for some, it holds valuable information that can greatly impact one's decision-making process. Understanding the journey from placing the order to receiving and opening the package provides insights into the overall buying experience. In this review, I aim to shed light on this often-neglected aspect and share my personal experience. While this may seem like a mundane aspect to some, it is my belief that such information can prove vital for potential buyers, particularly those facing unique circumstances or residing in countries with specific customs regulations.
Let's dive into the process of making the purchase. In my case, I opted to purchase from AliExpress, as it was the most suitable option for me. However, it's important to note that BOYA products can be found on other platforms as well. I highly recommend conducting thorough research to explore all available options and carefully assess which platform best aligns with your needs. Rushed decisions may lead to potential dissatisfaction or missed opportunities, so taking the time to make an informed choice is paramount.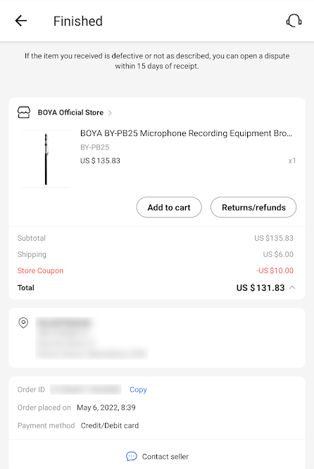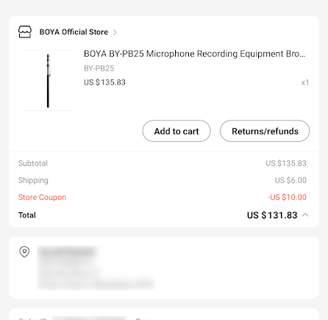 In the accompanying image, you can see my order. Notably, I took advantage of a $10 store coupon provided by the Official BOYA store available at the time of purchase. It's important to mention that this coupon was accessible to all users, and I do not have any affiliation or sponsorship with BOYA. I paid for the product with my own funds. Additionally, I was pleasantly surprised by the shipping cost, which amounted to only $6. Considering the size of the package and the international nature of the shipment, this is truly remarkable. The shipping was facilitated through AliExpress's standard shipping method.
After my payment was successfully processed, the seller took approximately 3 days to dispatch my order. To my surprise, they decided to change the shipping method from standard to DHL. This alteration in the shipping method led me to believe that the seller considered the standard method unsuitable for a package of this nature and opted for a more secure and reliable service like DHL. What impressed me further was that I was not asked to pay any additional charges despite DHL's reputation for higher shipping costs. I believe this was a special arrangement made in my case, and I didn't have any complaints since it worked out well for me. With the new shipping method in place, I was provided with a tracking number, allowing me to monitor the progress of my order. While I understand that this change in shipping method may not be the norm for every package, it showcased the seller's dedication to ensuring the safe and timely delivery of my order.
Remarkably, the package reached my capital city within a matter of days, leaving me pleasantly surprised by its swift arrival. However, my excitement quickly turned into frustration as I encountered an unexpected delay of nearly three weeks before the package reached my doorstep. This delay was primarily caused by the unreliable staff working at the local DHL office and the inefficiencies within my country's customs and tax services. As DHL was responsible for handling the package, it meant that I had to bear additional costs for their services. This included a mandatory payment for their handling fees, as well as an 18% tax on the total value of the product, including the shipping charges. Dealing with the local companies involved proved to be a challenging task, with communication difficulties adding to the delays and frustrations.
Despite these obstacles, I must commend the seller's responsiveness and willingness to assist throughout the process. Surprisingly, their efforts in resolving the situation exceeded my expectations, especially considering that this level of support is not typically associated with sellers on AliExpress. Their prompt and helpful communication proved invaluable, providing reassurance and guidance during this frustrating period. It's important to note that while my experience with the local DHL office and customs services may not be representative of every situation, it highlights the potential challenges that can arise during the shipping and delivery process, particularly when relying on external courier services and navigating through customs procedures.
Before purchasing, I recommend contacting the seller to inquire about their experience with shipping to your country. If using alternative services like DHL or UPS, research the additional costs, including taxes and fees, to calculate the final total. This proactive approach ensures a smoother purchasing experience and helps avoid unexpected expenses.
Upon finally receiving the package, and seeing the size of it I immediately understood why the seller had chosen to use DHL for shipping. The packaging was fairly secure with standard Chinese nylon and bubble wraps ensuring the safety of the contents inside. Notably, the package itself was approximately 105 centimeters in length.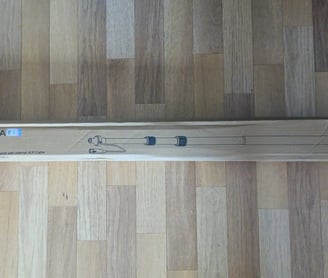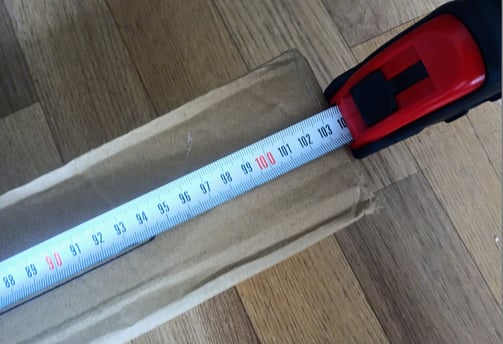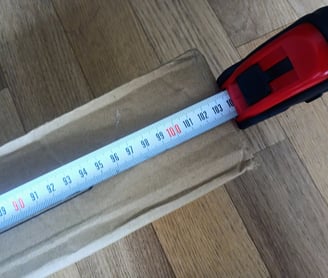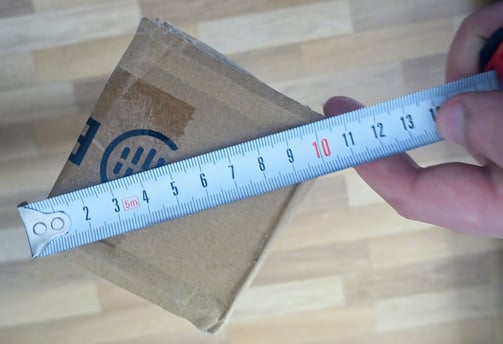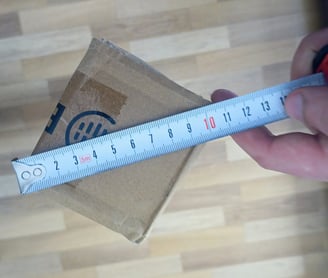 Construction, materials and build quality
Official Specifications:
Material: Carbon Fiber
Sections: 3
Minimum Length: 100cm (3.3')
Maximum Length: 250cm (8.2')
Weight: 722g (25.5 oz)
Load Capacity: 3KG
The construction of the boompole is undeniably intriguing and distinctive. It is evident that the inclusion of the internal XLR cable presented a design challenge, requiring the creators to devise innovative solutions while making certain compromises. This unique approach sets the boompole apart from more conventional models.
Appearance:
At first glance, the boompole exudes a sense of quality and professionalism. The carbon fiber pattern adorning the boompole's exterior adds a visually appealing touch, while the detailed matte black coloring enhances its overall aesthetic. When you hold the boompole in your hands, you can immediately feel its build quality. It exudes a reassuring sense of sturdiness and solidity, giving you the confidence that it can withstand rigorous use. Despite its robust construction, it manages to maintain a surprisingly lightweight profile, making it easy to handle and maneuver during recording sessions. The combination of its visually pleasing design, solid construction, and lightweight nature contributes to the overall premium feel of the boompole. It effortlessly blends style and functionality, allowing you to work comfortably and efficiently while maintaining a professional appearance.
Length:
The size when collapsed is just over 100 cm, which is a pretty standard size for most of the boom poles making it ideal for situations that require a smaller boom pole footprint. However, it's important to note that it reaches just a little over 250 cm when fully extended. While this extended length is suitable for many recording scenarios, surely will be a limitation for those who require a larger range or reach from their boom pole in more professional productions. Despite this potential drawback, it's worth highlighting that the boompole maintains exceptional stability and rigidity when fully extended. Even with the weight of a microphone attached, it remains steadfast and reliable, without any noticeable bending or flexing.
Materials:
While I may not have in-depth knowledge about the specific type of carbon fiber used, my experience with this boompole has been nothing short of positive. Despite my limited knowledge of carbon fiber, I can confidently say that this boompole has performed exceptionally well during my usage. I have unintentionally bumped and abused it many times during use, but it has remained strong and free from any cracks or damage. It has proven to be a reliable and resilient tool, capable of withstanding regular use without any compromise in its structural integrity. The twist lock mechanisms are made of machined aluminum, featuring a threaded grip pattern and a sleek matte black finish. A convenient small lock and unlock indicators are also printed. The boompole also includes a 60 cm fairly thick neoprene padded foam with a BOYA logo. At the top, the boompole features a unique dome-shaped plastic component with a standard 1/4"-20 thread. Despite extended use with different shock mounts and adapters, it has maintained its pristine condition.
Twist lock mechanisms:
Boompole has only two locks, which is unusual compared to other boompoles on the market. This design choice may be attributed to the internal XLR cable, aiming to simplify the operation and minimize potential issues associated with the cable. The first lock has a size and diameter of (OD-41mm and Lenght 44mm), and the second lock measures (OD-36mm and Lenght 41mm). While they may not be the most exceptional locks, they perform their function admirably. While they may not match the level of premium-quality boompoles, they are not far behind either which is impressive considering the price range.
Inside the package alongside the Boompole, you will find Boya stickers and some handy accessories like screw adapters. However, one notable inclusion that sets this boompole apart is the inclusion of a carry bag. This thoughtful addition is particularly noteworthy given the price range of the product. Many other popular and established companies often overlook the inclusion of carry bags, even at significantly higher price points. As a result, customers are left to either purchase a separate bag or find alternative solutions to safely and conveniently transport their boompole. This small yet significant touch enhances the overall value of the product.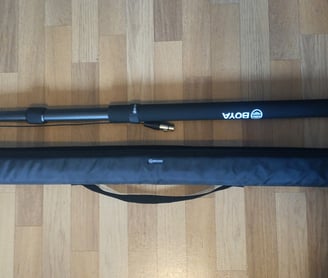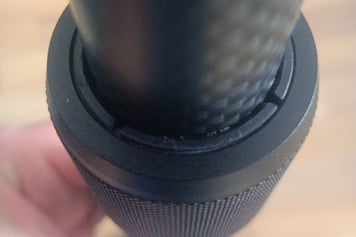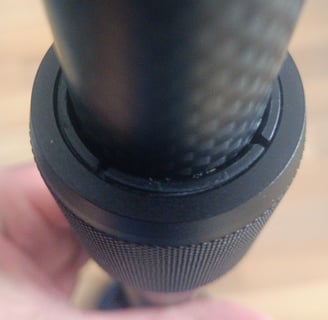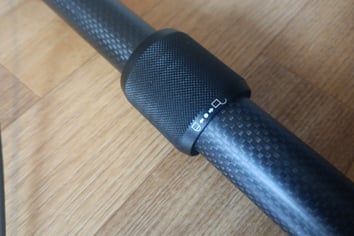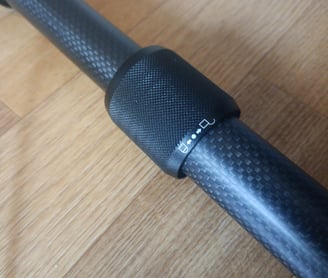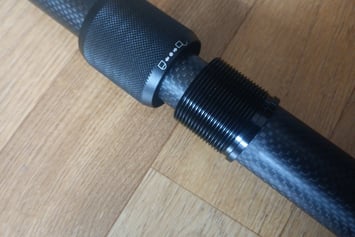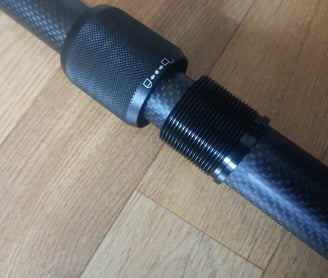 Cable and connectors:
One of the key features of this Boompole is its internal XLR coiled cable. While I haven't personally opened the boompole to examine its inner workings, it's worth noting that boompoles with internal cables typically require eventual repairs. Unfortunately, this particular boompole does not appear to have an easy access point for quick repairs, which could be considered a drawback. However, I haven't encountered any issues so far, and the lack of handling noise from the internal cable, even during fast and vigorous movements, is impressive. There may be a built-in some kind of shock absorption system, although I can't confirm without opening it. Regardless, it functions exceptionally well. If I do decide to open it in the future, I will provide a detailed update on this blog.
The cable connected to the female XLR connector on the top measures approximately 40 cm in length. The rubber part at the end of the dome shape provides some pressure absorption for that delicate area. The connector itself is unbranded but feels solid and robust, unlike cheap Chinese Neutrik knockoff connectors. So far, I haven't encountered any issues with it, but it can easily be replaced through simple soldering if desired. The fixed XLR connector at the bottom of the boompole is also sturdy and reliable, without any problems thus far. It's worth noting that the position of the bottom connector may not be ideal for everyone's workflow, as some might prefer it to be on the side rather than the bottom. However, with a few adjustments in my setup, I have found a convenient way to use it.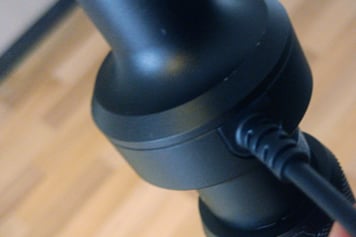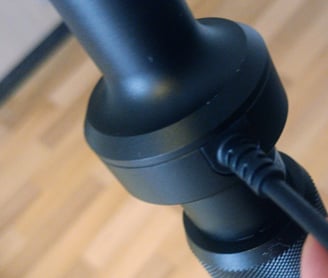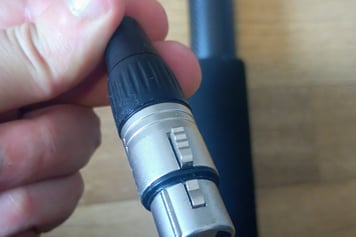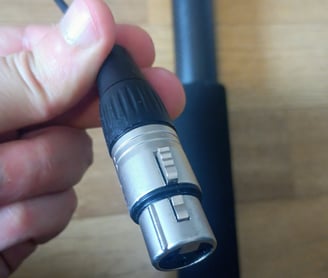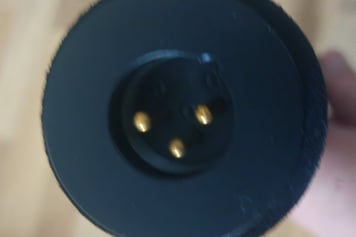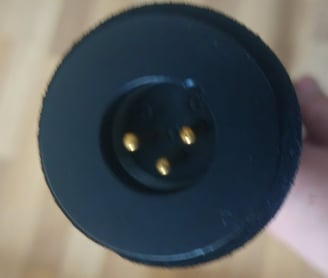 Thread:
At the very top of the boompole, there is a 1/4"-20 thread. The material used for this thread is not specified, but it appears to be made of strong and durable steel. Despite using it in various setups with different adapters and shock mounts, it has maintained its pristine condition without any signs of wear. Unfortunately, there doesn't seem to be an easy way to remove or replace the thread if needed in the future. Additionally, a small rubber pad is present at the end, and there are 2 small 3/8"-16 and 5/8 adapters that seem to be made of the same material as the main thread in the package.
Foam Handle:
The foam handle on the boompole is around 3 mm thick and 60 cm in length, allowing for various gripping positions. Made of neoprene foam, it offers a pleasant and cushioned feel in the hand. While it appears to be securely glued onto the boompole, it may not be easily removable if damaged. However, the foam material appears durable and should withstand long-term use.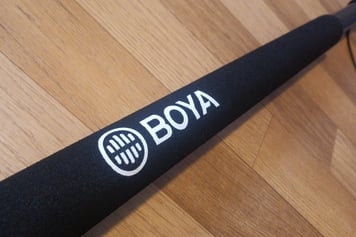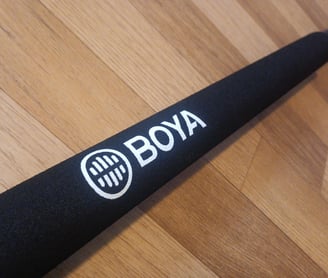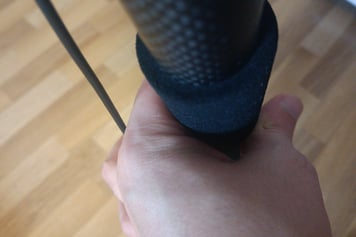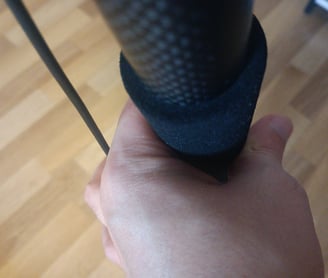 In my overall assessment, I find the construction, materials, and build quality of the boompole to be commendable. While the limited range of 100 cm to 250 cm may pose challenges in terms of transportation and some professional situations, it contributes to the boompole's robustness and reliability, reducing the need for frequent repairs. While I may not possess expertise in evaluating the intricate details of all the materials used, I can confidently say that the boompole feels well-crafted, exhibiting a balance of durability and lightweight design and through my extensive use on various sets, I have observed no signs of wear, tear, or degradation. The boompole maintains its pristine appearance, and all components remain securely in place.
Final Verdict:
This budget-friendly boompole is well-made and easily accessible through platforms like AliExpress, although there may be additional costs due to its size. If you require longer range, consider exploring other Boya boompoles. While it may not be commonly found on professional sets, it's a valuable addition to any arsenal. Personally, it suits my needs and those of my clients, although I occasionally face limitations in wide shoot scenes. Nonetheless, with creative solutions or the use of lavalier microphones, it works well. If you're conducting research, I hope this review aids your decision-making process. I'll continue using this boompole but may consider adding another with extended range in the future.
Additional important disclaimers:
International purchases of this boompole may incur high shipping costs and additional fees or taxes based on your country's regulations.

While Boya is a reputable brand known for its quality, it's important to note that variations in manufacturing and quality control can occur. Therefore, I cannot guarantee that the product you receive will be identical to mine, although Boya generally maintains a good reputation.
Conclusion:
To start, let me provide my conclusion along with the pros and cons of the boompole. I understand that this review will be quite comprehensive, and I value your time, so I want to provide a concise summary upfront.
I have been owning this boompole for over a year now and I had a chance to use it on various sets, and projects subjecting it to considerable use and abuse, and yet it still maintains its pristine condition and functionality. I am highly satisfied with its performance thus far and plan to continue using it in the future. It offers excellent value for the price, exuding a professional look and feel. However, its main drawback lies in its size, being too short when fully extended and too long when collapsed. While it may not be suitable for large-scale Hollywood productions, it is a perfect fit for smaller or indie productions. Considering its price point, this boompole caters specifically to those in that category. I initially had limited options and was hesitant about purchasing this boompole. However, considering the difficulties in obtaining other options in my country and the overall cost, I'm ultimately satisfied with my decision.
Pros
Excellent value for the money

Lightweight

Equipped with an internal coiled XLR cable

Low handling noise when operating

Robust construction

Sleek and professional appearance

Includes a carry bag and additional accessories

Long foam handle
Cons
Limited length range, may not be suitable for all situations

No easy access for quick repairs, as all parts are fixed

Limited to only three sections, which may limit adjustability in certain scenarios

Placement of the male XLR connector at the bottom may not be ideal for some users' workflows
Thank you for taking the time to read my review. If you feel that there are any aspects I may have overlooked or if you have had a different experience using this product, I welcome your input and would appreciate hearing about it.