JJC BC-3BAT10
Review of the JJC BC-3BAT10 battery case box holder with battery tester
RECOMMENDATIONGEAR REVIEW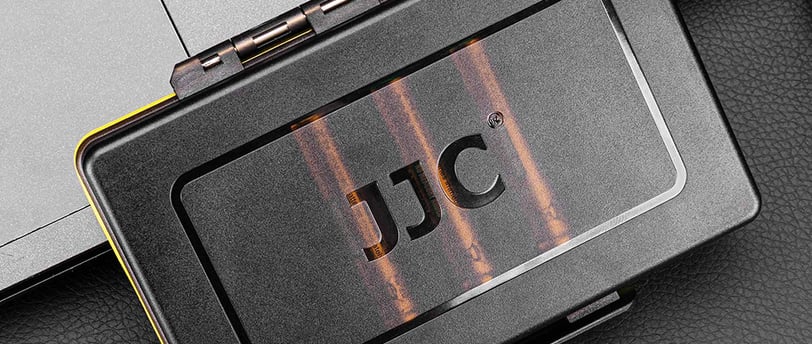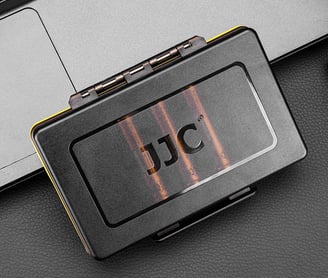 Introduction:
Recording audio for video projects often requires the use of AA batteries, depending on your setup. Whether you're an experienced professional or just starting out, having a reliable and organized system for managing your batteries is crucial. It's essential to be able to quickly swap out batteries on set without fumbling around or wasting time. Additionally, maintaining a sense of professionalism and ensuring the safety of your equipment is paramount.
In my quest to stay organized and keep track of my batteries, I have used various containers over the years. One solution that has proven to be both affordable and practical is a cheap plastic storage container specifically designed for batteries. These containers offer several advantages that enhance my workflow and provide peace of mind during shoots.
First and foremost, these battery containers provide a secure and protective environment for both rechargeable lithium batteries and regular alkaline batteries. They ensure that the batteries are safely stored and easily transported, minimizing the risk of accidental damage or discharge. This feature is particularly important when you're on the move, as it allows you to focus on your work without worrying about the integrity of your batteries.
Moreover, these containers are compact and space-efficient, making them ideal for carrying in your bag or equipment case. Their lightweight design adds minimal bulk, allowing you to maximize the available space without sacrificing convenience. By utilizing these containers, you can neatly organize your batteries and free up valuable real estate in your bag for other essential items.
Another advantage of these containers is the ability to label them. Keeping track of battery usage becomes effortless when each container is clearly marked. You can easily identify which batteries have been used and which ones are still full, preventing any confusion or mix-ups during a shoot. This level of organization not only saves time but also demonstrates professionalism and attention to detail to your clients and colleagues.
If you haven't already come across this type of carrying case, I highly recommend investing in some. The benefits of these cases will improve your workflow significantly if you are using a lot of batteries. The only minor drawback is that if you opt for the extremely inexpensive ones, their latches or lock mechanisms may wear out over time. However, considering that they can be purchased for less than a dollar, this is a negligible concern.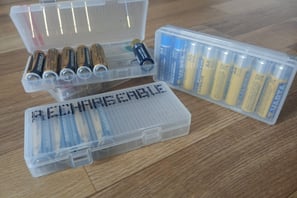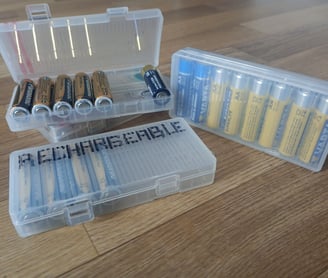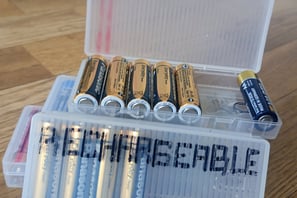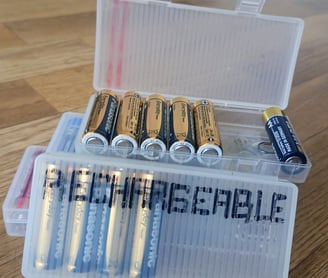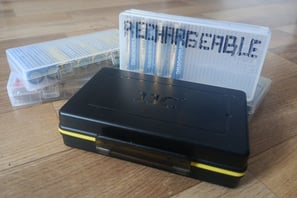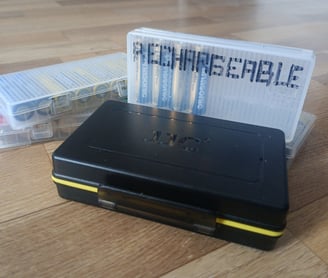 JJC?
While searching for more battery containers, I came across a company called JJC, which specializes in a wide range of accessories for professional photography equipment. Intrigued by their offerings, I delved deeper into my research and was pleasantly surprised to find that they were another Chinese company with a well-designed English website and official stores on platforms like AliExpress. As someone in the audio field, I was particularly drawn to their battery and memory card cases, which appeared durable, professional, and meticulously crafted.
After careful consideration, I decided to acquire their BC-3BAT10 model, as it perfectly suited my requirements.
Purchasing, Shiping, and Packaging:
I opted to purchase from AliExpress as it proved to be the most suitable option for my country. While the shipping cost seemed slightly higher than expected considering the size of the package, I reasoned that the additional expense might be attributed to ensuring secure transport. Thankfully, the entire process was straightforward and uncomplicated.
The package was dispatched promptly, using standard AliExpress shipping, and reached my doorstep without any complications. It arrived in a standard AliExpress envelope, adequately protected with bubble wrap. Although it has been a while since I made the purchase, I believe the package took approximately a month to reach my address.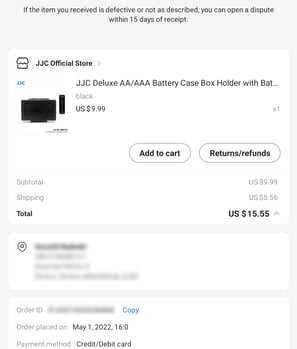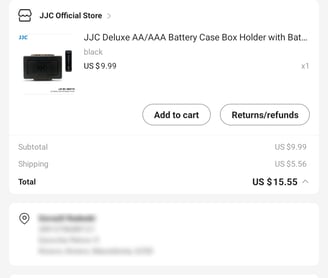 Construction, Materials and Build Quality

Official Specifications
Model: BC-3BAT10
Exterior Dimension: 126x88x31mm
Net Weight: 115.5g
Package Dimension: 90x165x33mm
Capacity: AA battery x 8, AAA battery x 2
Package Includes: Battery Case with Battery Tester x 1
Material: PC plastic, EVA foam, Silica gel
Color: Black and Yellow
With a final cost of $15.55, including shipping, I can't help but feel like I've acquired the Ferrari of battery cases. When considering that the same amount could easily fetch a dozen ordinary plastic cases, the value becomes even more apparent. Not only does it look visually pleasing, but it also exudes a sense of sturdiness akin to that of a tank.
While I don't claim to be a plastic expert, the material used in this case appears to be heavy-duty and capable of enduring significant punishment. The sleek black color adds a touch of elegance, and the slight transparency on the sections where batteries are placed is a convenient design element. Sandwiched in the middle is a well-fitted yellow O-ring, ensuring the case remains waterproof, and its bright color makes it effortlessly noticeable.
The locking mechanism, made of plastic, impresses with its nice, strong, and secure feel when opening and closing the case. Both sides of the case are connected by metal rods, further enhancing its overall robustness. Upon opening the case, I was greeted with one of the finest examples of Eva foam I have ever encountered. The density and texture are perfect, providing excellent protection for the batteries. There are eight precisely cut slots for AA batteries and two for AAA batteries. I can't help but wonder where they sourced this remarkable foam material.
To top it off, the inclusion of a small plastic battery tester, compatible with both AA and AAA batteries, is a noteworthy addition. I will delve deeper into its functionality in the next section. For now, considering the exceptional quality and features provided, I firmly believe that $15.55 is an excellent price for such a premium battery case.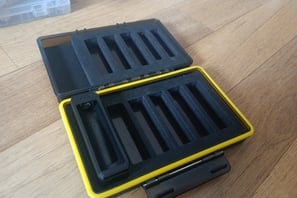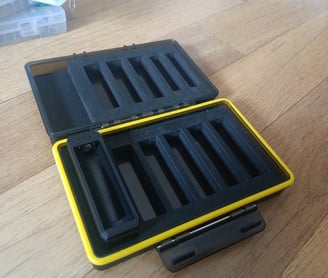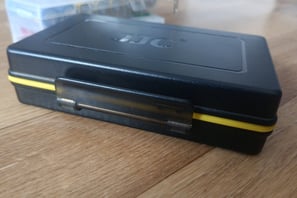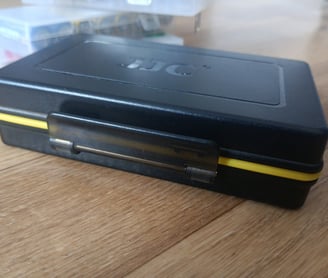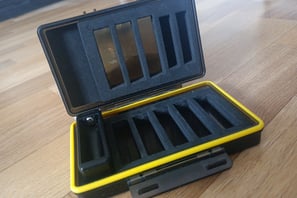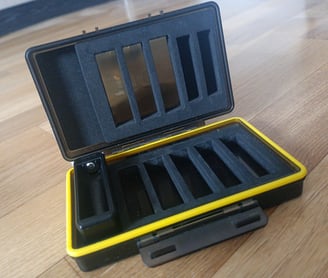 Battery Tester:
The battery tester included with the case is wonderfully simple and user-friendly. While it may not provide a highly precise reading until the last percentage, it serves more as a general guide to give you a sense of your battery's overall capacity. The tester features three small blue LED lights on top, which blink in a manner corresponding to the battery's remaining charge. The number of illuminated lights provides a rough indication of the battery's capacity level.
For your reference, here is the official JJC chart detailing the battery capacity criteria as indicated by the tester:
Battery Capacity Criteria
Indicator Status: ● ● ● - Battery Level: Good (the battery power is sufficient)
Indicator Status: ● ● - Battery Level: Weak (suitable for remote control, clock, and other low-voltage equipment)
Indicator Status: ● - Poor (replace/recharge)
Additionally, the battery tester can be effortlessly detached from the case, providing the flexibility to use it according to your preference in any given situation.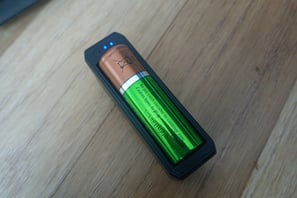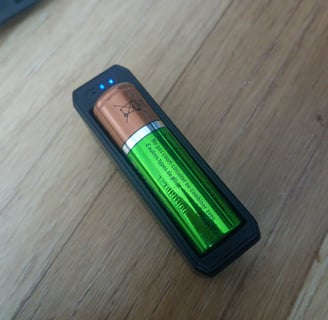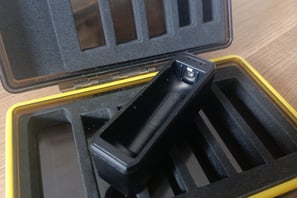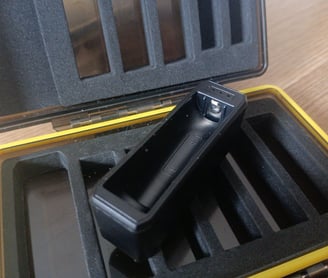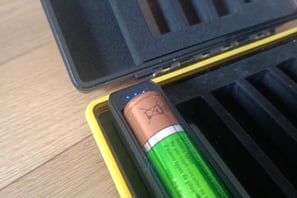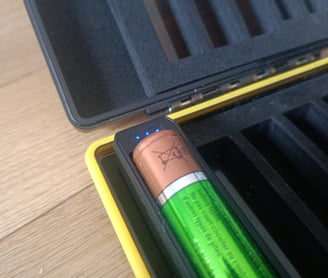 Conclusion:
I could continue discussing this in even greater detail, but I believe this is already a substantial read for a battery case. It is evident that this case has been meticulously designed by someone who has firsthand experience working in the video production industry, and understanding the challenges faced in the field. Prior to this purchase, I was not familiar with JJC, but their approach has certainly piqued my interest, and I intend to follow their future endeavors closely.
With a focus on quality and durability, it is safe to say that this case has the potential to last a lifetime. Is this type of case an absolute necessity? I would say no, but it undoubtedly enhances your ability to perform your job quickly and efficiently while maintaining a professional and confident demeanor, which is crucial in this line of work.
If you are engaged in filmmaking as a hobby or for casual enjoyment, it may not be a necessary investment. However, for professionals who heavily rely on batteries, I highly recommend giving it a try. Considering the price, if you work in this field professionally, you will likely find it easily affordable. Make sure to explore all the JJC products available and select the one that best suits your specific workflow requirements.
Thank you for taking the time to read my review. If you feel that there are any aspects I may have overlooked or if you have had a different experience using this product, I welcome your input and would appreciate hearing about it.